Today we received an unseasonably late snow-storm that has left us with several inches of snow on the ground. We woke up this morning and were greeted by the first several inches of heavy, wet snow clinging to branches during a lull in the storm. After accidentally letting the cat slip out the door I spent 45 minutes tromping around the yard with my camera. Click on the image below to open a Quicktime VR panorama (a 3D view that you can rotate around in).

QuickTime VR (5.5MB)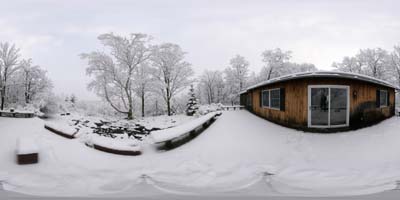 equirectangular panorama, a stitch of 93 photos (3.6MB)
I have made a few more QuickTime VRs as well, of
a sunset off the back deck (3.1MB)
, our
front yard (7.1MB)
, and
the Parthenon (4.8MB)
.