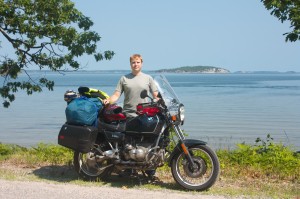 In 2005 I took a 3-week trip around Turkey with my parents and brother. Mid-way through this fabulous trip we met the affable Roland Pfitzenmaier, a German man touring the middle east on a Triumph motorcycle. While I am someone who usually travels with a full load of gear — bicycles, kayaks, and all the rest — the minimalism of Roland's trek was intriguing. This summer my father was kind enough to lend me the use of his motorcycle (a 1993 BMW R100R) and I figured that there was no time like the present to try a long-distance motorcycle tour. Now, I'm well aware that for serious iron butts a 2,000 mile round-trip isn't all that far — but for someone who is just getting into riding and has only done day-trips, four straight days on the road each way would be a significant journey.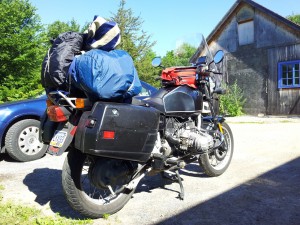 My family has a small cabin on a lake in northern Michigan where I every summer growing up. Since moving to Vermont 14 years ago my attendance has slipped somewhat as the trip lengthened to a driving time of 15-17 mind-numbing hours along the flats of the New York Throughway and various mid-western highways. That said, I still try to make it to the lake at least once every few years. Since I took the full month of July off from work I figured I'd make the trip via motorcycle this time and learn if this sort of travel was for me.
To keep things interesting I planned a route out that would avoid expressways as much as possible and give me a chance to see the landscape of central Ontario — a region I haven't seen before.
Total distance: 1077
Total moving time: 23 hours, 17 minutes
Average speed: 46 mph

View Larger Map
Key: blue line – planned route, red line – actual route
I planned the route with Google Maps, first starting with the default route, then dragging it onto the most twisted and windy back roads that I could find. After establishing a route I tried to break it up into chunks of around 6 hours to give myself plenty of time to wait out passing thunderstorms, deal with break-downs, and just get into each town early enough to do a little sight-seeing. The process worked quite well, but one limitation I found was that Google Maps doesn't indicated the road type or surface for small roads. For example, about 20 miles of roads that I picked turned out to be dirt — not a problem as I thoroughly enjoy dirt roads, but it would have been nice to anticipate that better and might have been a problem if I had picked many more of them.
After planning out my route and making reservations at motels for each night I punched the routes into my GPS (Garmin Nuvi 765) with enough "via-points" to keep the automated routing on my desired roads. Much of the time I can't really see the Garmin's screen while I'm riding because of glare, so I run an extension cord from the Garmin's headphone jack back to my in-ear headphones (MEElec M6P) which double as my hearing protection. In this way, I get nice voice prompts for turns without being visually distracted by the screen. Much of my route didn't have any mobile phone service and using roaming mobile data while in Canada is stupid expensive ($15/MB) so using my phone's navigation app was out of the question.
Day 1: Weybridge, Vermont to Sharbot Lake, Ontario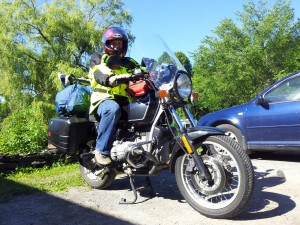 Distance: 300 miles
Moving Time: 6:45
I decided to make my first day the longest one since I was fresh and roaring to go on Tuesday, July 3rd. My route took me straight west across the Champlain Valley and across the Adirondack Mountains to Watertown, New York and from their north across the St Lawrence River and into Ontario.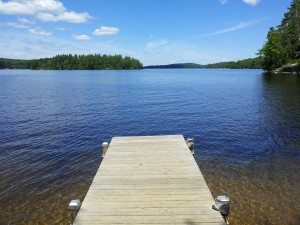 The first hour of riding included my favorite road ever: Tracy Road near Moriah, NY. Tracy road has more than 50 curves over 7.5 miles as it winds around hills and beaver ponds in the Adirondack foothills. It was a total blast and a great way to start the day. The next few hours of riding were pretty spectacular as well (though not a twisty) as Routes 73 and 3 wound through the Adirondack Park past many clear lakes surrounded by hills and mountains.
After exiting the Adirondacks I made a quick stop in Watertown, NY before heading into Canada. I was pleasantly surprised at how charming and bustling Watertown was — I had expected something more "rust-belt" than the vibrant downtown I found.
I crossed into Canada via the Thousand Islands Bridge. The Thousand Islands are a place I will need to return to on a subsequent trip. The multitude of tiny islets with houses on them look so magical, though they are likely best explored by boat rather than road. Drove all over looking for an overlook, but could for the life of me find one. Dark skies threatened, so I gave up my search and headed for the border crossing.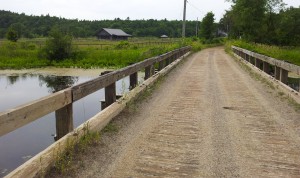 Once in Ontario I headed straight north through the Land O' Lakes region, specifically the Rideau Lakes and Frontenac townships. Much to my delight I found that most of the back roads in this area were unpaved. With light rain showers falling I enjoyed many slow miles through very scenic fields and forests.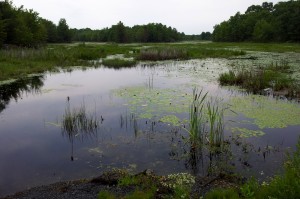 I found the geology and geography of the Land O' Lakes region fascinating. Basically, the landscape is made up of hard metamorphic rock that was the base of an ancient Laurentian Mountain Belt that formed 1 billion years ago. The mountains have since eroded away and recent glaciers from the last ice age have scoured and dimpled the landscape leaving an undulating surface of rock with very little topsoil. Because of the lack of soil, virtually every depression in the land is a rocky lake, pond, or bog.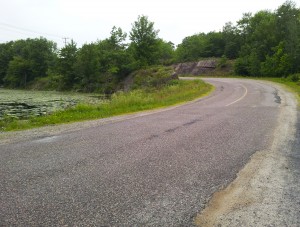 The back roads and rural highways wound around these countless water bodies and eventually I reached the sleepy hamlet of Sharbot Lake, my first overnight stop.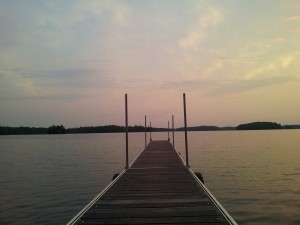 I spent the night at the Sharbot Lake Inn, a sleepy little motel with a great view of the medium-sized Sharbot Lake. The proprietors were very friendly and when I mentioned that I might arrive late in the evening if I hit bad weather just said, "We close at 8pm, but we'll put you in #7 and just leave the key in the door if you haven't arrived by then." The hotel was still open when I arrived but quite quiet on this Wednesday evening so after unloading the bike I walked across the street to the Maples Restaurant, the only establishment open past 9pm in this little town.

All in all the first day was a blast. The only hiccup I had was about an hour into the ride when one of my straps slipped and my kite/tripod bag rubbed on the rear tire for 1/4 mile and melted a hole in the outer bag and the kite bag. The tripod wasn't damaged and the kite only had a small tear. To fix the problem I tied some loops in my main tie-down straps to give me something more sturdy to attach the bungee cords to: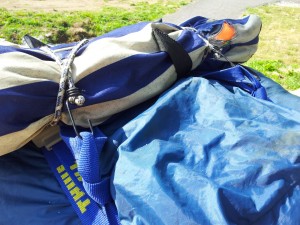 Day 2: Sharbot Lake, Ontario to Parry Sound, Ontario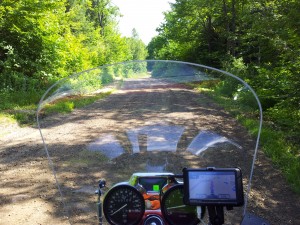 Distance: 269 miles
Moving Time: 5:31
I woke up Wednesday, July 4th to a beautiful morning with no hint of rain. After breakfast at The Maples I packed up and checked out only to find the battery dead and unable to start the bike. I assumed that it just needed to charge up, so I unpacked everything to get at the battery under the seat and got a jump from a friendly motel employee, and then packed up the bike while it was running.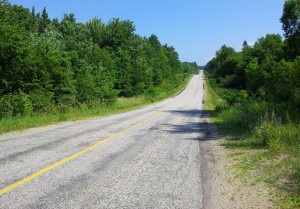 The first back roads and rural highways of the morning were windy and beautiful, though one of the dirt roads narrowed to little more than a tractor track at one point. I was careful not to stall since I wasn't sure how well I would get started again.
After about 40 minutes I needed gas, so I stopped at a tiny station in the middle of nowhere. Even after running for 40 minutes it was no closer to starting, so I unpacked again, got a second jump, repacked, stalled, unpacked, got a third jump, repacked, and headed 40 miles to the closest likely source of help: an Arctic Cat dealer in Cloyne, ON.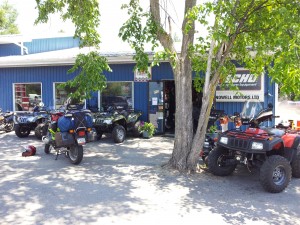 At the time I didn't realize that motorcycle batteries required checking of the acid level and I must have let the battery go dry during the heat of the previous day and then further killed it while using it dry. The engine stalled as I pulled into Nowell Motors and one of their mechanics, John was able to find me a battery that fit. It wasn't a perfect match, but it fit in the hanger and was my only option that didn't include driving several hours in the wrong direction.
The battery was sorted out by about 1pm and from Cloyne I headed north along the Madawaska River to the Algonquin Provincial Park. Algonquin Park sits on a high rocky plateau that feeds rivers in all directions. Like the Land O' Lakes region, it is full of many bogs and ponds at all stages of filling in with peat. Other than stopping briefly at the visitor center I drove right through the park and only paused for a moose sighting.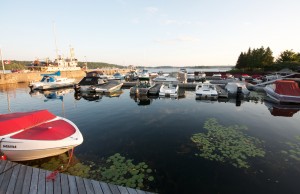 After the high forest of the park the highway descended down toward the rocky eastern shore of Lake Huron and the town of Parry Sound. While I had left myself plenty of time for riding on Wednesday, dealing with the battery had eaten up much of the morning and I arrived in Parry Sound just before sunset without too much time to explore. I checked into the Travellers Hotel in Parry Sound then spent the last moments of daylight wandering about the harbor. I had dinner at a nice restaurant by the harbor and then got to sleep early.
Day 3: Parry Sound, Ontario to Sault St. Marie, Michigan
Distance: 292 miles
Moving Time: 5:46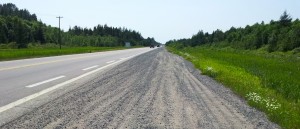 Thursday morning came bright and sunny again, though this time with an easy-to-start bike. After breakfast at the hotel I got on the road for a full day of driving on the Trans-Canadian Highway. I had hoped to get out and see a large part of the Georgian Bay coast, but the eastern shore of Lake Huron is full of more than 30,000 islands and many deep bays and long peninsulas. It turns out that the only way to get beyond a small sheltered bay would be to drive more than 45 minutes out a peninsula, then back the same way. There is really no coast road in this region.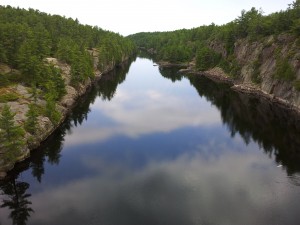 I hoped to get to Sault St Marie early enough to do some sight-seeing, so I skipped on the Georgian Bay and kept to the highway. While parts of Route 69 and 17 (Trans-Canada Highway) are 4-lane expressway, the vast majority of the road was straight, flat, 2 lane highway with a third passing lane alternating directions every 5 miles or so. For the most part the landscape was forests, but one highlight was the French River Provincial Park where the French river drains Lake Nipissing into Lake Huron through a marvelous maze of rocky promontories.
By the time I reached the North Channel of Lake Huron near the town of Blind River I was finally able to get close to Lake Huron and too a small detour to get over to the lake. The shore here was finally more sandy than rocky, though still with bedrock sticking out hear or there. The landscape was generally pretty flat and houses and cottages dot the lake-shore drives.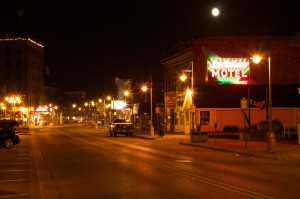 After another couple hours of riding I came into Sault Ste. Marie, Ontario, a city of about 80,000 inhabitants and a very smelly factory near the river. The downtown was nice though and I did a lap around the downtown streets and waterfront before heading over the bridge to Sault St. Marie, Michigan — a much smaller town of about 15,000. While waiting to cross the border a fellow driver pointed out that my rear tire was bald… … and looked low. It wasn't flat however, so I rode slowly the last 2 miles to my motel.
I checked into the Lockview Motel — a cute and cheap place right across from the shipping locks — and unpacked into my little 1-room cottage before looking at the tire. A bit of soapy water showed that there were three small punctures in the center of the tread, one from an unknown source and two from a staple. Since it was evening and there wasn't much I could do I left the bike parked on its center stand and toured about the locks and their visitor center. Since no ships were coming through for a few hours I had a passable dinner at the Lockview Restaurant (the only thing open at 9:30pm). The walleye was tasty, but the rest of the meal (salad and mashed potatoes) were totally bland and flavorless.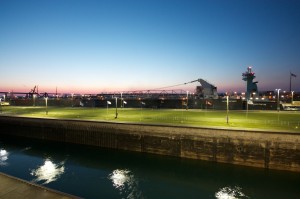 By the time I was done with dinner two large ships were locking through the MacArthur and Poe locks, one going up to Lake Superior and one going down to Lake Huron. Both were bulk freighters that carry iron ore from ports on Lake Superior down to the big cities of the midwest and east.
Day 4: Sault St. Marie, Michigan to Beulah, Michigan
Distance: 216 miles
Moving Time: 5:15
I spent most of Friday morning calling around to several motorcycle dealers looking for a replacement tire. Since this bike has a somewhat odd size for its rear tire I struck out, but headed to one of the shops, Leitz Sports Center, to see if they might at be able to patch the tire or at a minimum have easier access to compressed air than I did at the motel.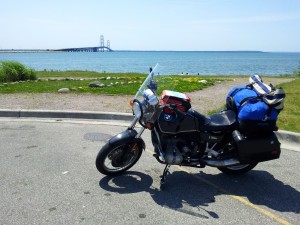 The guys at Leitz were very helpful, but recommended against patching the tire since that might open a hole in the thin tread even more. Eventually, I ended up getting a can of the Slime "spare tire in a can" stuff and injecting it into the tire. With that and a top-up of air I was able to get on the road for the final 5 hours of the trip.
An hour or so into the trip I crossed the juncture of Lake Huron and Lake Michigan via the Mackinac Bridge and continued south to Petosky where I met up with my parents for lunch. Two more hours driving down the Lake Michigan and Torch Lake shorelines brought me to the end of the journey in Beulah.
While the tire and battery problems were certainly a hassle, they weren't particularly unpleasant to deal with since I had left myself loads of extra time. Over all the trip was great fun and I'm looking forward to following it up with a similar journey on the way home. First though, I have two and a half weeks on Crystal Lake full of the rigors of reading novels on the beach, barbequing, and sailing. Its a tough life… 🙂