Adam September 11th, 2013
Filed under: Life and Everything Else
Tags: camping, Canada, motorcycles, Nova Scotia, touring, travel
This entry was original published as a Ride Report on the Adventure Rider (ADVrider) forums. The only changes are reformatting to flow as a single article.
Prologue
I'm continually thankful that I get to live in one of the more scenic corners of the planet. Central Vermont boasts numerous twisty roads that tie together charming villages over rolling farmland and steep mountainsides. While my back-yard riding options are nothing to take for granted, it was traveling by motorcycle that attracted me to riding in the first place. I have the travel-bug and long to explore exotic places. Reading the fabulous trip reports at ADVrider has only fueled a greater hunger to step out of my day-to-day environment and explore new places. Since the Rocky Mountains are too far to fit into my vacation schedule this summer, I settled on maritime Canada (and Nova Scotia in particular) as a suitable destination from my two-week end-of-summer trip. As an inlander, the sea-coast provides a novel and ever changing landscape to feast my eyes upon and the population density seems about right to allow me to get a bit of wilderness fix while never being too far from the next town. I also wanted to try my hand at locating camping spots on deserted beaches and former logging cuts as a way to get away from the RV crowd at public campgrounds. While I wasn't quite sure what to expect on the ground, zooming around in Google Earth seemed to indicate many likely-suitable spots in Canada and Maine where no one would notice or mind a tent for the night.
My best guess at a planned route: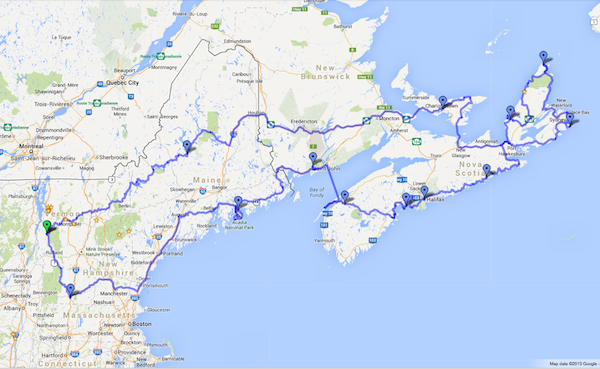 (The actual route can be seen below at the end of this post)
While the vacation itself is certainly the goal, at least 25% of the fun is thinking about and preparing for the adventure. In the weeks leading-up to the trip I took care of various maintenance on the bike, changing the oil and tires as well as adding a top-case and a few other bits and bobs. This trip also gave me an excuse to refresh my camp stove and a few other pieces of gear I haven't needed in a while. One of the things I thought I'd try out was this brand new super-hydrophobic-and-oleophobic coating called "NeverWet". After watching their YouTube videos I thought, "this would be perfect to keep water/mud off my boots/riding-pants". I'll come back to this later, but the moral of the story: don't. Preparations began in earnest a week out and by the night before I had the house clean, the bike packed, and was ready to go.